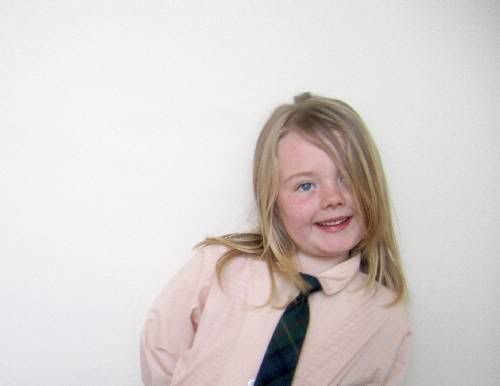 So I hear. Lucy's into her third week and all is going well. When I pick her up her response to my question 'how was school today' is always a deadpan 'great'. Or my 'What bit did you enjoy most today?' to which the reply is 'playtime' (or lunchtime). And I thought only boys responded like this! So I gently quiz her a little on the drive home. The best way though is to view the masterpieces of art, literature and expression hanging up in the classroom from the day's activities (lots of butterflies, unicorns and spaghetti-like words).

Since we invariably get home from school pickup around 4pm after a compulsory play in the school playground (Audrey goes nuts), I am slowly getting some quick dinner recipes stockpiled. They have to be very good for me to keep the recipe though. Two of my semi-regulars are a no-boil pasta bake and gluten-free pizza.

The pasta bake really is a goodie, so I have to share the recipe (found somewhere on the web):

1 26 oz jar pasta sauce
1 1/2 cups water
15 oz ricotta
1/4 cup grated parmesan
2 cups shredded mozzarella (I've just used cheddar)
8 oz uncooked pasta (e.g. shells)

Preheat oven to 400 F.
Combine sauce and water.
Stir in ricotta, parmesan, and 1 cup mozzarella.
Add uncooked pasta.
Spoon mixture into appropriately-sized baking dish.
Cover with foil and bake 55 minutes.
Remove foil and sprinkle with remaining mozzarella.
Bake uncovered for 5 minutes.

Serves 8.

The above recipe is a good basic recipe, so add your herbs and seasonings, a little tofu (or meat if you really must) and go wild with it. The recipe alone is rather tasty so I can only imagine what added extras will elevate it to.

And for the pizza, I admit I haven't been making my own pizza bases because I haven't taken the time to master yeast yet, so I've been buying these gluten-free bases.

My own vegetarian favourite, based on a nearby Italian restaurant's version I love, is caramelised onion, blue cheese and pinenut.

I preheat my pizza stone for as long as I can, one hour is best. Truth be told, I almost always don't have an hour to spare (or rather the thought of the oven being on for that long without food in it makes me uncomfortable) so I settle for 30 minutes. During this time Lucy and Audrey are having a bath and by the time they're in their pyjamas the stone is ready to go.

I spread the gluten-free bases with tomato paste, add random dollops of caramelised onion, crumble blue cheese on top, sprinkle with pinenuts and then grated cheddar and top with fresh herbs (last I used rosemary). They're baked for around 10-15 minutes/until golden.

The most pleasing thing about these sorts of dinners is that there are very few dishes. That makes me deliriously happy.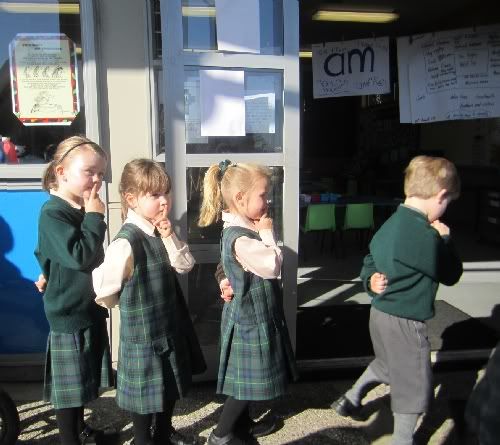 Lucy (far left) and her class walking to the school hall