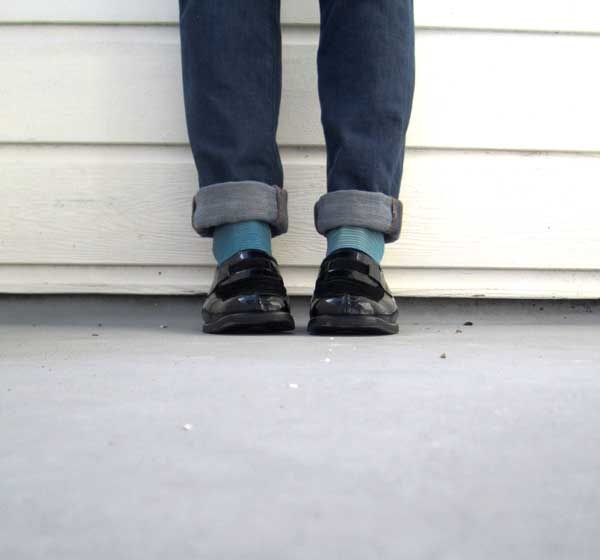 Converse hi-tops had become my daily shoe. Now that Lucy is at school I needed to make slight changes to my school run outfits, something a little more polished. I have been wanting these
Dieppa Restrepo
loafers for quite a while now, which are available for pre-order only. But admidst my deliberating I chanced upon these barely-worn loafers in a thrift shop (though the prices were far from thrift store prices). Made in Italy and full leather, with the black patent and suede combo I so love about the Dieppa penny loafers, they almost seemed too good a find to be true. I paid $38 for them, which in an op shop is outrageous though anywhere else it would have been a steal. I've have worn them probably every second day since I bought them two weeks ago, and even though I'd still love the Dieppa's I've stopped my incessant pining.
So basically I still wear my same pants, shirts, tees and jerseys but with a more polished shoe it moves the outfit away from overly casual.
I was told by a friend whose daughter goes to a nearby school that the fashion stakes are high. She has heard of women who have recruited stylists for schoolgate outfits. Utter madness! I can't believe people think they have to compete, and to that extent. It's one thing to look either tidy or polished or whatever look you're going for, but to pay someone money to tell you what to wear to drop off and collect your child(ren) from school just flabbergasts me. I'm sure this happens alot more in larger metropolitan cities, but it just surprises me here. Here's an
interesting read
on the topic.
This is not only a new world for Lucy, but for me also. I have a lot to learn. Or rather, a lot to discover.