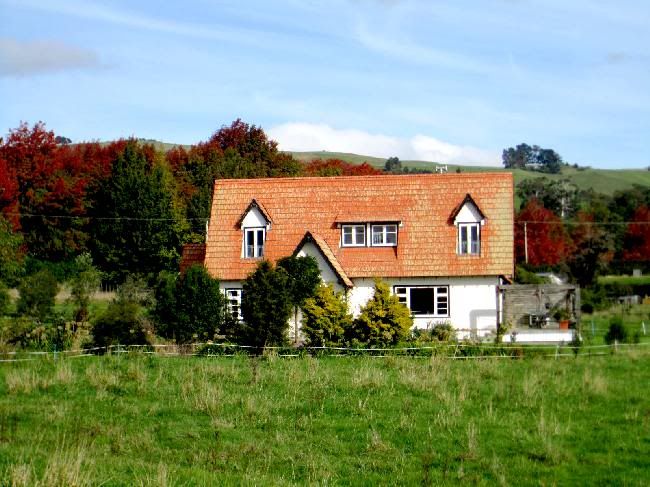 Lucy, Audrey and I just arrived back from a short stay in Hawkes Bay with my folks. Well, my mother lives in town so with her we do the cafes, shops and parks, all the city living. My father lives rurally, just out of town, so with him we plant seedlings, forage for feijoas and fresh walnuts, dodge cowpats, drink brandy on the terrace in front of an open fire, and watch the stars beyond the fairy lights dangling from the trees. The best of both worlds!
It's so pretty down there right now, with all the yellow, orange and red foliage. And, unusually, my father's cottage is free right now. For the past years it has been booked solid by visiting doctors, so if you fancy a jaunt in wine country at the prettiest time of year, in a beautiful, spacious cottage, then give him a call. That's it to the right of the page,
Falkirk
. He and his adopted corgi-cross Matilda (Tilly) look after everything.
The cottage is situated far from the main house, so there's plenty of privacy, not to mention fresh feijoas and flowers on the doorstep. And wine bought from any of the local wineries would go down a treat, sipped from leather sofas in front of the wood-burning fire.